Ocean Remedies™ Krill Oil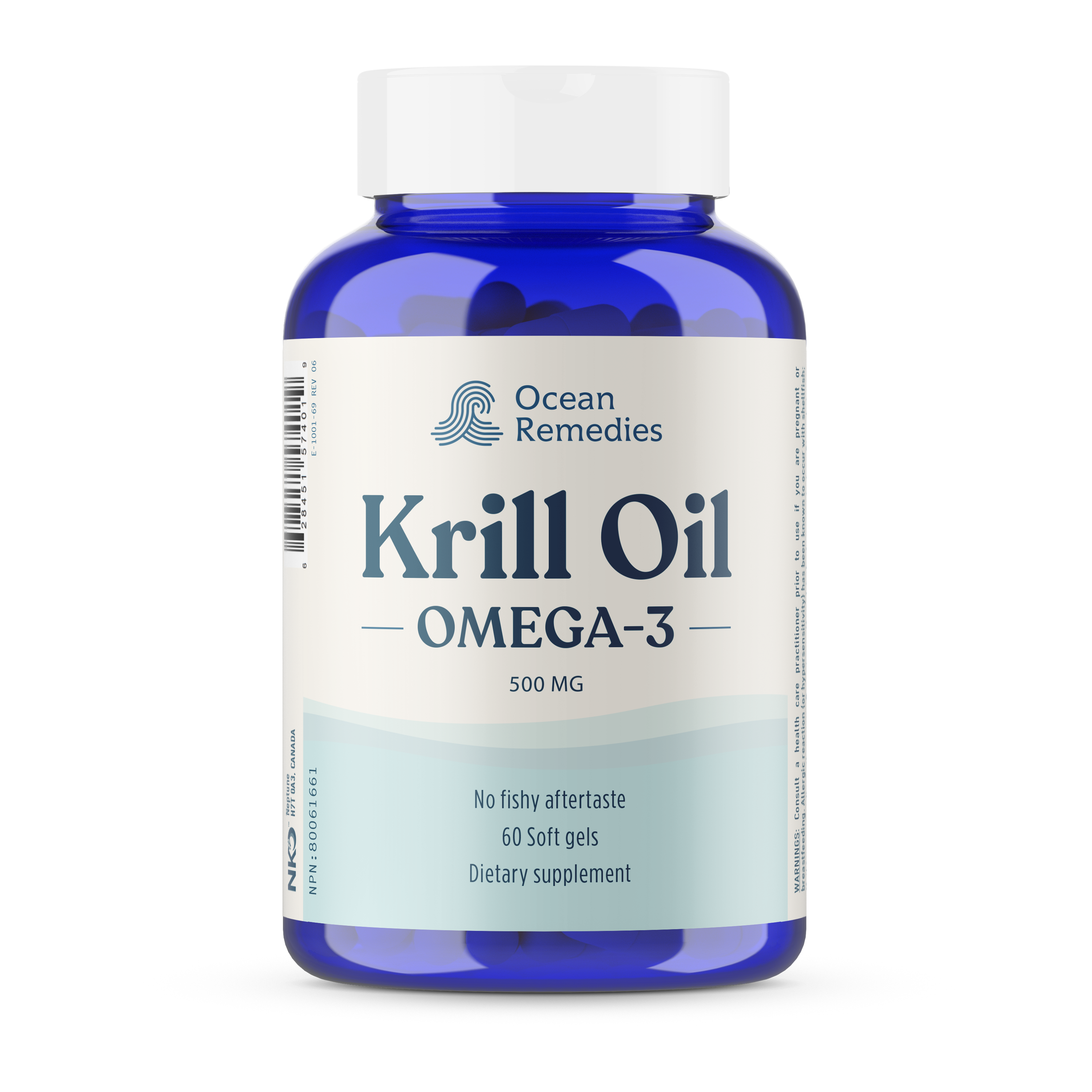 Ingredients
Our sustainably harvested Ocean RemediesTM Krill oil offers a unique source of EPA and DHA omega-3 fatty acids, phospholipids and natural antioxidants.
Each Ocean RemediesTM 500 mg soft gel contains:
Esterified Astaxanthin
A natural antioxidant
EPA & DHA
Two omega-3 fatty acids that can help support your brain health, maintain healthy levels of blood lipids* and so much more!
Phospholipids
Long known as one of the "Building Blocks of Life," phospholipids support healthy cellular and body function – and are not present in most fish oils.
Non-Medicinal Ingredients:
Gelatin, glycerin, purified water, sorbitol, ethyl vanillin
Your Superior Krill Oil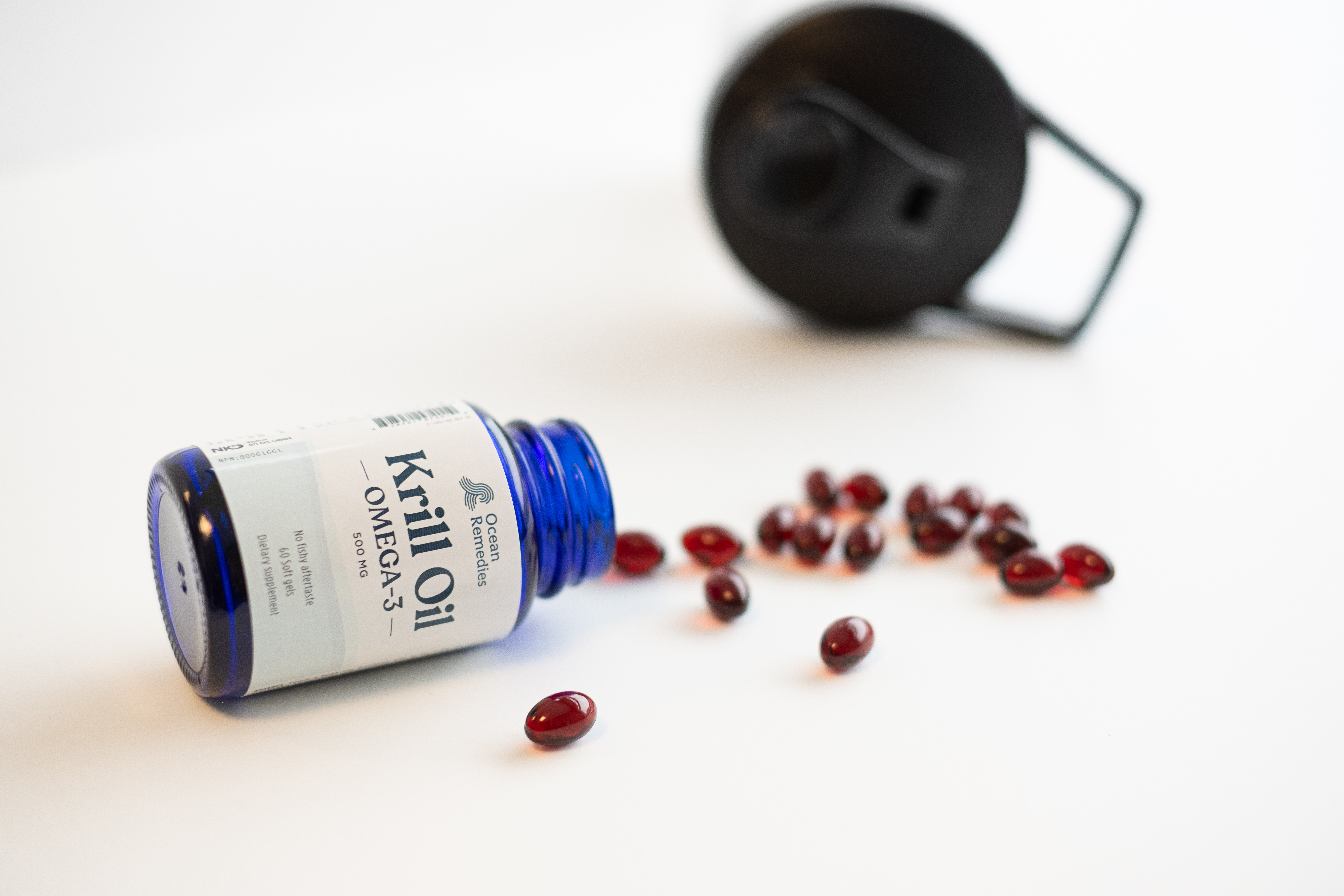 Did you know krill oil is clinically studied for its benefits on heart and joint health?
The Recognized Health Benefits of Krill Oil*
Cardiovascular Health
When it comes to heart health, one nutrient stands out from all the rest: omega-3 fatty acids. Ocean Remedies contains high-quality krill oil with the heart-healthy omega-3 fatty acids EPA and DHA. Remedies Krill Oil, can help put a little more bounce in your step.
Joint Health
The potential anti-inflammatory benefits of omega-3 fatty acids, like the ones present naturally in Ocean Remedies Krill Oil, can help put a little more bounce in your step.
Brain and Eye Health
The omega-3 fatty acid, DHA, has been demonstrated to support brain health and eye function. Adding Ocean Remedies³ Krill Oil supplements to your daily regimen would be smart thinking.
General health
The overall health benefits of the omega-3 fatty acids present in krill oil have been demonstrated to support many aspects of our health: eye, skin, brain, heart and women's health.
"
Great product. No aftertaste or secondary smell. It cost less and has a slightly higher potency than popular advertised brand. I am really happy that I found Ocean Remedies.
Jamie, Canada
"
No fishy smell and fast delivery. Good to get it from the source!
Fred, United States
A sustainable natural resource
Plenty More Krill in the Ocean
Krill is one of the most abundant biomasses on the planet. It is a food source for whales, penguins, seals and birds that repopulates itself each spring during spawning season. The krill fishery is rigorously controlled by CCAMLR (Commission for the Conservation of Antarctic Marine Living Resources), which sets strict annual catch limits and fishing guidelines.
Less than 0.3% of the total krill biomass is harvested annually

Ocean Remedies has been certifed by FOS for sustainable Krill Harvesting. Learn more about Friend of the Sea : friendofthesea.org
What makes Ocean Remedies different?
Omega-3 fatty acids in krill oil have been demonstrated to be 2.5 times better absorbed than from standard fish oil
Studied clinically for its benefits on factors of heart and joint health
No reflux or fishy aftertaste
More antioxidants than most brands
100% Krill oil, no additives
Small, easy-to-swallow soft gels